Today I am so excited to be welcoming Natalie of Perry's Plate to her first cocktail party. (More on that in a minute.) Bottoms up, girl! Now you may think that cocktail parties are no place for kids but I would tend to disagree; so much of the food I've seen coming through the door lately is adult and kid appropriate (and this latest arrival is no exception.) And that is the wonderful thing about Natalie's recipes – I know they are kid-tested and approved. On the contrary, when people ask me for kid-friendly recipes on my blog, I'm kind of at a loss since most of them have not been tried out on little humans. Others also warn me that I'll have to change my cooking style when our kid is old enough to eat, but again, I would disagree – if mine is anything like Natalie's, he or she will be happily noshing on Hazelnut Parsnip Soup, Sweet Potato Foil Packet Tacos,  and Creamy Spinach and Avocado Spaghetti (or, Superguy as I once called it!)
For more of Natalie's recipes, visit Perry's Plate, "Like" her page on Facebook, and follow @perrysplate on Twitter.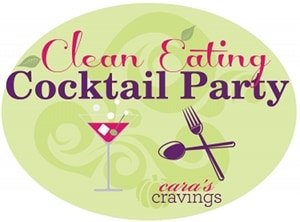 Hi guys! I'm Natalie, and I blog over at Perry's Plate.
I'm so excited to be on Cara's Cravings today! I adore Cara. I've been reading her blog since the Pumpkin-Spiced Cheesecake days (that's the recipe that drew me in), and I love her creative recipes and dedication to clean eating! Plus, she's one of the sweetest, nicest bloggers I've met online. I'm super excited for her to be a mom, too. *Squeal!*
To be honest, I wasn't sure what to create for this shin-dig because . . .
I've never been to a cocktail party.
It's true. Please don't laugh. My lack of cocktail party invitations is most likely due to the fact that I don't drink alcohol. (Neither do most of my friends.) I'm pretty stoked that Cara's Clean Eating Cocktail Party is my very first one!
My husband, my three little girls (the biggest reason adult parties are lacking in our lives), and I are pretty clean eaters and veer toward the paleo/primal end of the spectrum (but not too strictly). We love our desserts, though, and take them very seriously. Birthday cake planning is talked about almost every single day.
Because we save "real" desserts for special occasions, we have a few things in our arsenal to tide over our sweet teeth during the week. These Frosty Pumpkin Pie Shots are one of our favorites, and would also be a great addition to a fall party spread!
We recently bought one of those rocket-fueled blenders. You know what I'm talking about, right? Well, there was a recipe for a chocolate frosty thing in the blender's cookbook that we just LOVE. I tinkered with the recipe and came up with a pumpkin pie version!
If you don't own one of these blenders, you can also make this recipe with a food processor and a regular blender. (See notes in the recipe.)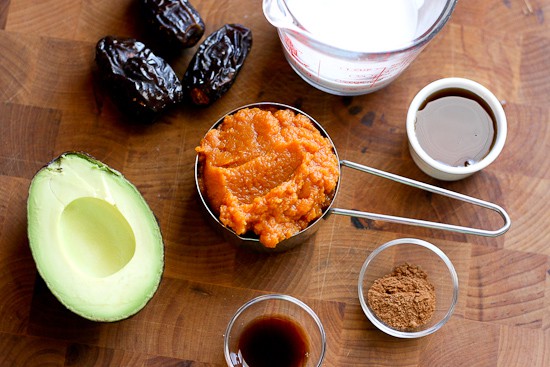 The ingredients are rather surprising, though. . . completely vegan and nut-free. Yes, that avocado is there on purpose.
And yes, it actually does taste good blended together. It sure looks strange right now, though.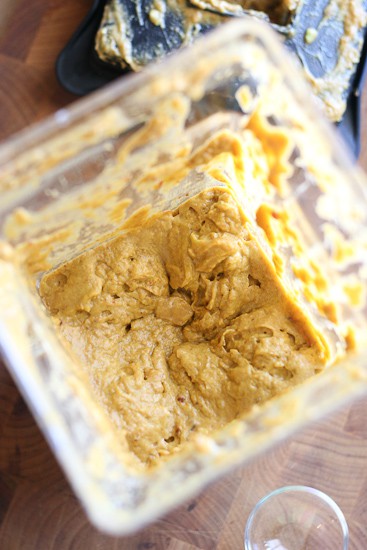 Better? Now we have pumpkin-pie-ish pudding stuff.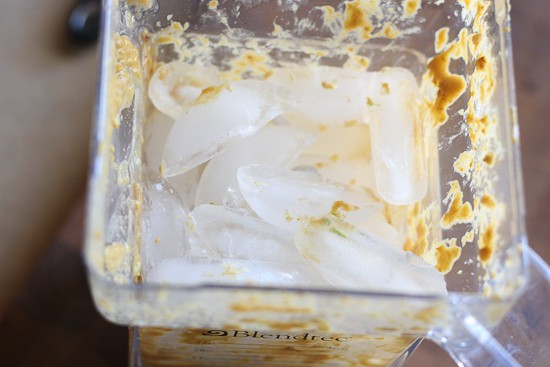 Dump a bunch of ice on top, give it another whirl, and . . .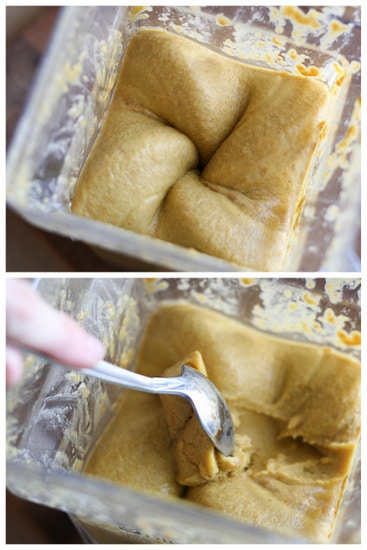 there. Much, much better. The texture of this is slightly creamy, like a sherbet. If you want it creamier, you could always add a splash or two (or five) of heavy cream.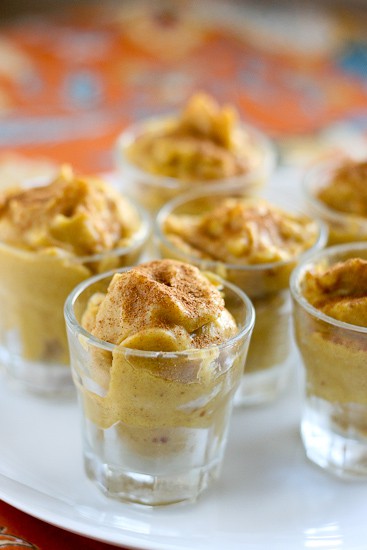 Divide the frosty goodness into mini glasses, and dust with a bit of pumpkin pie spice if you want.
Or whipped cream. Can you tell I have a hard time staying away from dairy? Give me a few minutes and I'll work cheese into this recipe…
Thanks again for having me, Cara!
Frosty Pumpkin Pie Shots

Yield: about 4 1/2 cups

Thick and frosty pumpkin shake made with all natural, vegan and nut-free ingredients. Serve 'em up in shot glasses for a fun party treat!

Ingredients:

1/3 cup coconut milk
1/2 cup pumpkin puree
1/2 of an avocado
3 dates, pitted and halved
2-3 Tablespoons pure maple syrup
1 1/2 teaspoons pumpkin pie spice
1 teaspoon vanilla extract
About 3 cups of ice cubes

Directions:

Combine all ingredients (except the ice) in your power blender (i.e. Vitamix, Blendtec) and blend until smooth, scraping the sides if necessary. (If you use a Blendtec, run the "sauces" program twice, scraping the sides between runs.)

Add the ice, about 3 cups, or until the contents of the blender measures around 4 or 4 1/2 cups. Blend again (use the "ice cream" program on your Blendtec twice), pushing the ice down if necessary.

Divide into glasses and serve immediately.

Nat's Notes:

1. If you don't have a power blender like those mentioned above, make the base in your food processor, then transfer the contents to your blender before adding the ice. Add 1/2 cup of warm water to get things moving. The texture isn't quite as thick, but it really works nicely.

2. Unfortunately this isn't a make-ahead type of dessert. If you put it in the freezer for more than a few hours, it will become rock solid. You can, however, make the base ahead of time, refrigerate, then blend it with the ice when you're ready to serve.